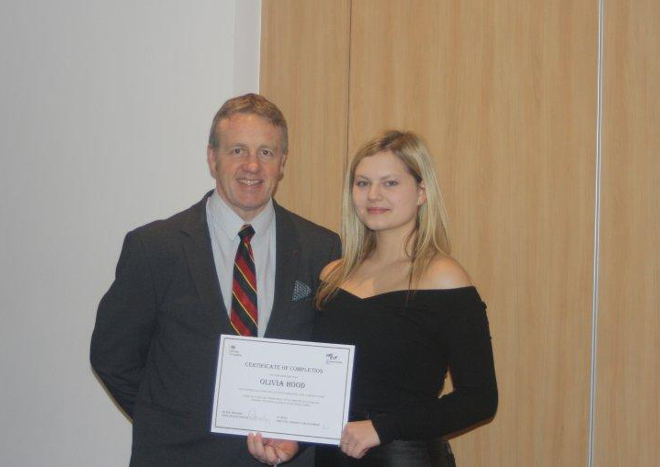 Apprenticeships are a fantastic way to learn as you earn – gaining a professional qualification while learning specialist skills.
Later this year, we're launching our new Custody and Detention Level 3 Apprenticeship. This means anyone becoming a prison officer from that point will carry out an apprenticeship. With this you will:
gain a recognised qualification (equivalent to an A level)
work with expert and experienced coaches
receive additional training to reach standards in English and Maths (if required)
learn key transferrable skills and knowledge
We spoke to Officer Hood, who completed our pilot apprenticeship scheme, about her experience…
Why were you interested in the custody and detention apprenticeship?
It sounded like a positive way of learning more about the job that I was going in to. It also sounded extremely rewarding and to know that nobody else had ever completed this apprenticeship before and that I would be one of the first, really peaked my interest. It intrigued me knowing that I would be a test runner for the apprenticeship.
Can you tell us what brought you to the prison service in the first place?
I knew of someone who worked in the prison service and they said the job was extremely rewarding and intriguing, so I applied to join as it sounded like the sort of job that I could make a good career out of.
And when did you start your apprenticeship?
I started my apprenticeship straight away as part of my two week induction at my home prison which was immediately followed by an eight week training programme at a local learning and development centre. It took me over a year to complete but it definitely helped me to learn more about the job that I am doing.
What was the best bit of doing the apprenticeship? 
What I liked about the apprenticeship was having to push myself in my job and do more than what was required of me. I needed to learn about other departments in the establishment and to understand how their roles played a part within a resident's sentence and how all departments work together and doing this has helped me in my career. The graduation at the end of the apprenticeship was definitely a highlight for me, it felt good to receive some recognition for the hard work that I had done.
What would you say to new starters joining the prison service? 
I would definitely say the apprenticeship is great for new staff who are joining the service as it helps you quickly learn more about your job and the role you play. It's a big achievement and is certainly something that can help staff to further their careers.
You can find out more about our prison officer apprenticeship scheme here.