Every year HMPPS celebrates its outstanding staff through the Prison Officer of the Year Awards and the Probation Awards. Both awards include categories such as Team of the Year, Lifetime Achievement, Change and Innovation, Partnership Working and Public Safety.
This year's awards are running this week so, in this blog post, we're looking back at what last year's winners did to make a difference to the people in their care, and what people starting out in their careers can learn from them.
Iain Foskett: Prison Officer of the Year Winner 2017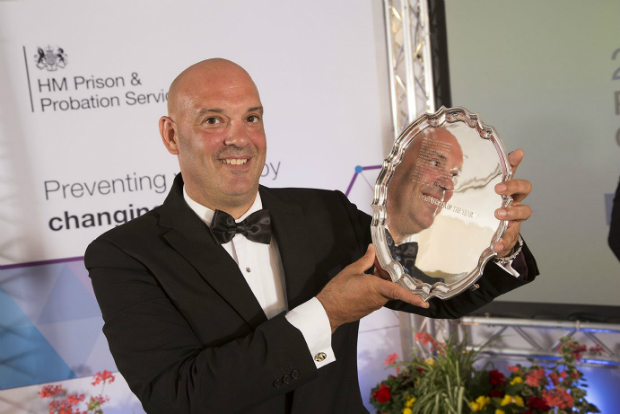 I've been a prison officer at HMP High Down for 14 years, and I currently work in the segregation unit. I help to take care of some of the prison's most challenging men with complex needs.
For example, there was one time a young prisoner with complex needs refused to communicate and covered up his observation panel. I was on my lunch break at the time, but I rushed over to help and spoke with the prisoner.
I gently reassured him, whilst challenging his behaviour and encouraged him to think about his actions. After 45 minutes, I managed to de-escalate the situation and persuaded him to come out of his cell so his needs could be seen to. The lad even apologised to me afterwards, which was a great thing to have.
So, how do I do it?
I would say that I think I got the Prison Officer of the Year award last year, not just because of what I've done, but because of the other staff around me. Last year, we had prison officers from all over the country come to High Down to help out during a moment when we were short-staffed, and they brought a lot of experience with them. I believe it's through the support of others and their work that I was able to do my job to the best of my ability.
I also mentor new recruits under my own initiative. I particularly focus on teaching new staff how to encourage positive behaviour in challenging men. My advice to new recruits or those interested in becoming a prison officer is to remember to be yourself. Anyone who's gotten to the stage of being a prison officer has something that can be offered to provide support to the inmates.
Watch the experienced staff, take their ideas and turn them into your own. You don't know the ins and outs of the job from your first day - learning from other officers will help you become the best prison officer you can be.
Winning the award last year was a huge morale booster to the prison. It really brought home to us that we're doing the best we can - and we're award-winning! HMP High Down had never won the award before, and it was amazing to see we'd been put on the map. We also have a Clink restaurant, so it was quite surreal that the first thing people saw was a picture of my mug at reception!
To the next prison officer of the year 2018, enjoy it! Winning did feel quite overwhelming, thousands of staff have the ability to win it, and there's so many talented people across the service - so it really could be anyone. Good luck to whoever wins it next!
Gareth Key: Probation Champion of the Year Winner 2017
I was first introduced into probation work as a sessional community service supervisor in 2002. When I realised I enjoyed the probation work more that my main job, I took the plunge to join the service full-time, and qualified as a probation officer in 2008 in the north east.
I enjoy the difference I can make to people's lives through building positive relationships, but I also acknowledge that changing lives takes time.
I also work with a superb group of people in the Gateshead team and I'm proud to call them my friends. You absolutely have to have people behind you and being able to support you – because it can be a difficult job to do over a long period of time.
So, how do I do it?
I think getting to know the people you're working with as a person and their background is massively important. Having an understanding of what happens in their lives and how things develop for them can, hopefully, help you to help them make changes towards more positive lives.
But it takes a lot of perseverance. Sometimes there can be a lack of trust with the service. Sometimes they're simply not in the right place, for example they might have issues with drugs and alcohol misuse or health issues.
So it's a very incremental approach – because when you've got somebody who comes to you after 20 or 30 years of offending, they're not going to change overnight; there's no silver bullet to it all. But you're hopefully putting them on the right path – and that path might be 10 years long – and gradually they'll reduce the negative behaviour until they live fully law-abiding lives.
You need to tailor certain approaches with certain people – but always remain consistent when it comes to what you're doing to help them. Ultimately, you're trying to get them round to your way of thinking but it's definitely a joint approach, you've got to be approaching it together or it doesn't work.
There's this one case where I really felt like I had made a difference.
There was a lad who I've seen change massively over a period of time in prison. I saw a complete change in his attitude and thinking - he recognises where he was in his life then and where he is now are completely different.
He went from going to a Category C prison, and doing well in a difficult situation, to coming out into the community, and worked towards getting his own business, which has been fantastic. Getting employment after release is definitely one of the most motivating reasons for change.
I'm impressed with the progress he's made, but I'm also realistic: when people come out after long sentences it can be difficult to adjust to the community. But, he's had all the ingredients of making a positive change: he's retained his family support and he's remained focussed on resolving previous issues.
It does give you hope for other people when you see real progression. The huge changes he's made where he's now living a law-abiding life, working full-time, is brilliant. I'm just dead proud to be part of that process.
The HMPPS Awards 2018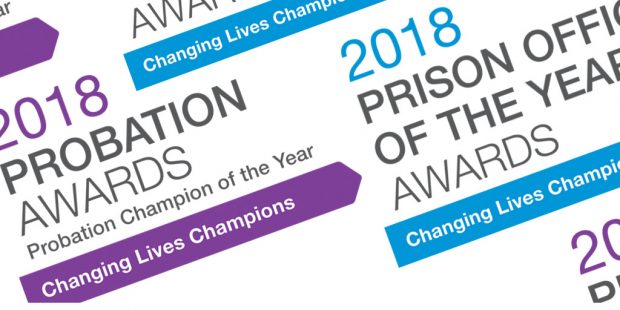 Congratulations to all of HMPPS's staff during this year's awards. Good luck to all nominees - but remember, you all do fantastic hard work, making real changes to real people's lives.
Follow @HMPPS to keep up to date with this year's winners.
If you're interested in applying to become a prison officer or a probation officer, visit our recruitment website.