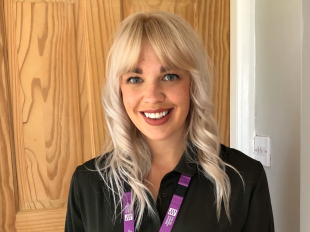 As a recently qualified Probation Officer the unexpected changes brought about because of the coronavirus really threw me in the deep end at the start of my new career.
Not having colleagues physically either side of me to ask quick questions and discuss things with hasn't been ideal, but we've been having virtual team meetings at least twice a week, and a lot of screen time contact.
My role is to enable the ex-offenders I work with to make better life choices and reduce their likelihood of reoffending whilst playing a critical role in public protection.
Currently my week involves arranging video links and telephone conferences from home, and three days out in the car doing doorstep visits. Confidentiality must be considered during doorstep visits, which has meant paying strong attention to the conversations and behaviours with heightened senses.
Working from home has had its own challenges too, such as trying to switch off at the end of the day - which I'm sure many other people in different jobs also struggle with.
Working efficiently as a team during the current crisis has meant we've had to explore innovative ways of gelling with colleagues. Even simple changes have made a difference to our resilience and teamwork, such as having an online chat group where we are able share ideas and continue supporting each other throughout the day. On a couple of occasions, we've been treated to a sing-song by our team choir members and I've even hosted a virtual quiz to help maintain the social aspect of being part of a team.
I feel extremely proud to work for the National Probation Service and fortunate for my team of supportive colleagues, managers and incredible administration staff. We are working through an unprecedented time and whilst there will certainly be more challenges, I am inspired by our ability to continue to work effectively in our critical public protection role.
Being a Probation Officer is a challenging, demanding yet rewarding role. You need resilience, empathy and strong communication skills, though patience is perhaps the most essential skill!
Jenny
Find out more here about applying to become a probation officer.