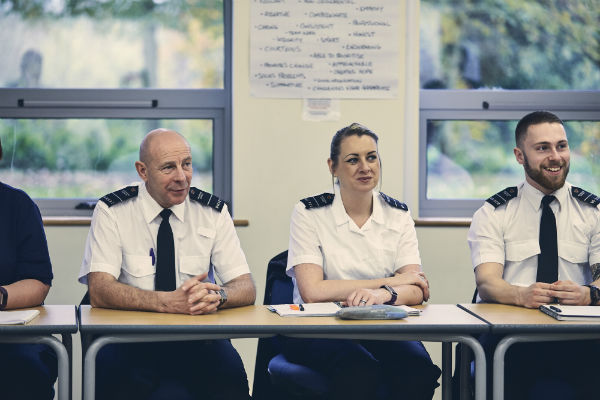 Before any prison officer is ready to start their new career in the prison service, they receive Prison Officer Entry Level Training (POELT) to prepare them for the job ahead. This blog post will provide you with an overview of the POELT, what to expect, and my own personal tips on how to make the most of the training.
I'm Dave, and I started out as a prison officer. By working through the ranks, developing my career, I'm now the Delivery and Development Co-ordinator at HMP Newbold Revel – the prison service's largest prison officer learning centre. So, I have extensive knowledge in both being a prison officer and in training them.
An overview of the POELT
Altogether, the POELT is a 12-week programme that equips new officers with the skills and knowledge needed to begin their careers working in the prison service and rehabilitate offenders. Currently, it starts with an induction week at the prison you've applied to, followed by a 10-week intensive training course at one of our 40 learning centres across England and Wales, and ends with a consolidation week back at your prison.
At your induction, you'll get an overview of working life in a prison and an understanding of the different complexities behind the prison officer role and areas of responsibility. For example, you'll see the variety of departments that make up a prison, such as healthcare, chaplaincy, the gym, the library and more! There will be no assessments and you won't be responsible for any offenders during your induction.
Most importantly, you'll also be introduced to both your line manager and mentor, who will be your first points of contact for any support you need during your first year of probation. This gives us a chance to get to know you and any initial areas of concern you may have that we can help with.
You'll then attend your 10-week training. This is so you can contextualise and prepare for the environment you'll eventually be working in.
Finally, you'll attend your consolidation week at your prison for your last week of training. Prisons vary from one another so this is a great chance for you, with support from your mentor and line manager, to put into practice what you've learnt from your course. This is also an opportunity to see if you need any extra training or guidance. This will typically be the first time you work directly with offenders, but you'll always be supervised and supported by experienced members of staff before 'going live' as a fully trained prison officer.
What to expect from the 10-week training
You'll get the tools and confidence to be a professional prison officer. We provide a variety of ways for you to learn: from classrooms to team-building exercises, from lectures to hands-on problem-solving. You'll also have individual assessments and group projects throughout the training to make sure you're reaching the required standard.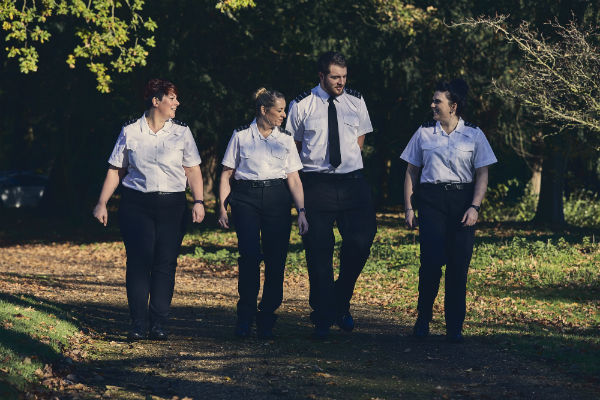 The training has a very inclusive environment, centred around teamwork and collaborative working. So, it's also a great time to make some friends and bond with fellow officers from different prisons.
Another important part of the 10-week course is ensuring you get the support you need in preparation for your new career. All our prison officer trainers are qualified, skilled, and experienced to deliver the training and they work closely with your personal mentors.
How the course is run
The 10-week training course is intensive but we split it into bitesize chunks. We start simply with giving an overview of how a prison works, what life as a prison officer is like, and what to expect in your role.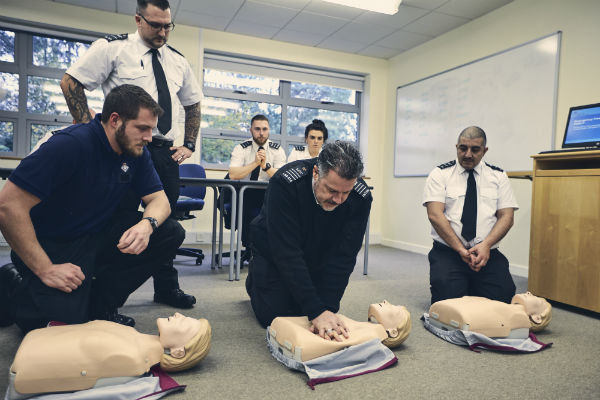 Training then ramps up each week. You'll start learning the basics on safety: cuffing, cell-searching, locking and unlocking doors. There's also mandatory training on areas including:
first aid
food hygiene
health and safety
the rules and regulation within the service
Throughout the course, the training focuses on giving you the skills and knowledge to create a rehabilitative environment for the people in our care. Ultimately, your role as a prison officer is to help provide the tools and opportunities for offenders to lead law-abiding, successful lives and to cut down reoffending.
So, you'll learn de-escalation tactics, how to deal with confrontation and strengthen your interpersonal skills. Communication is vital in being a prison officer. You'll be trained in being keyworkers for prisoners: to be mentors and guides.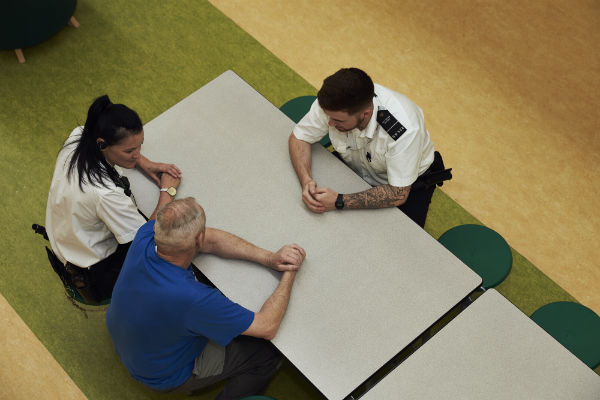 This includes understanding how you behave and how you are perceived as an officer. We use lots of techniques on understanding human behaviour, with the view to rehabilitate, and understand the problems and challenges people have, to allow us to influence others and change people's lives.
Assessment
You're assessed throughout the training, and our assessors evaluate your performance through day-to-day observation, feedback and project work. We'll also give you the skills and confidence to present both individually and as a group.
When it comes to grading, we don't use the word 'fail'. If you find something challenging, we'll work with you to help you overcome it.
After the 12 weeks have been completed, you come away from the POELT with a Level 3 diploma in the management and care of individuals in the custodial environment. You'll also gain a first aid qualification, and a certificate in food hygiene. You can use these qualifications as a platform to help you specialise or get promoted within the prison service.
My advice to you
One of my personal highlights running these training sessions is seeing how much people learn about themselves. I love seeing how new prison officers mature collectively as a group and as individuals through this process. They really grow professionally and often develop a renewed perspective on life, based on the work we cover on a vast and often challenging range of topics. The training provides a genuinely positive experience.
So, before you start your career in the prison service:
get rid of any preconceived ideas you may have and come with an open mind
think of the uniform you wear and what it represents – we are a uniformed service that protects the public, so wear it with pride
remember that resilience is important in being a prison officer; what we do is challenging but incredibly rewarding
To find out more information about prison and probation jobs, visit our recruitment website.