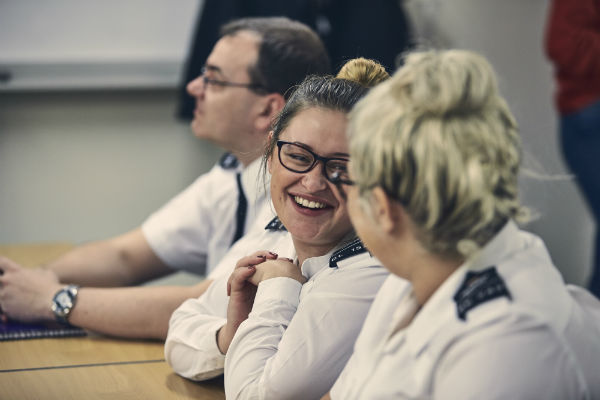 Part of the application process to become a prison officer is to attend and pass a Recruitment Assessment Day (RAD).
A RAD is not like a typical assessment day or job interview, as it specifically assesses an applicant's suitability to be a prison officer.
I'm a Recruitment Adviser for Her Majesty's Prison and Probation Service (HMPPS), and my role is to provide help and guidance to prison officer applicants. We get many questions about the RAD in particular. So, I've written this post to provide tips on what we're looking for in prison officers, what to expect and how to prepare for a RAD.
What happens before a RAD
Prison officer applicants will need to complete and pass the Online Prison Officer Selection Test for each prison they've applied to. Once passed, applicants may also be invited to attend a familiarisation day, so they can get to know a prison better and also check they're a right fit for the role.
You're then invited to attend a RAD. Even if you've applied to multiple prisons, you only need to attend and pass one RAD.
You'll be able to book onto any available RAD within the next 3-4 weeks after being invited. You're able to choose which RAD centre you go to, so you should be able to pick a RAD slot that is at a convenient time and location.
The assessment process
There are no formal interviews at the RAD. The RAD assessors will be looking at your suitability to become a prison officer by seeing if you have the values, fitness (stamina) and interpersonal skills needed for this role through a series of tests.
The RAD includes a basic medical test, including an eyesight test, with and without glasses (so if you're a contact lens wearer, you'll need to also bring your glasses with you). Your blood pressure will be taken, and we advise you to not drink caffeinated drinks which may affect your blood pressure and, if it's too high, you won't be allowed to take the fitness test.
There will be a literacy and language test, and a numeracy test, but don't panic – you'll be able to use a calculator. Prison officers will be expected to be able to write accurate and easily-understood case notes and reports.
This brings me onto what the prison officer fitness test involves. You'll need to pass a bleep test at level 5.4. This means running and keeping in time with the bleeps, until you hear four beeps past level 5. You'll also do a shuttle run, a grip test and shield test (where you'll need to show you can hold up a shield for a set period of time).
Finally, the last part of the RAD will be the prison officer role-play exercises, also known as situational judgement tests (SJT). You'll typically do 3 SJTs, or 5 if you've applied to a young offenders' institution. Tests last 10 minutes each. You'll be given a brief at the SJT, and then enter the assessment room with an actor who will be following a script. During the role-plays, you won't be expected to solve the given problem, but demonstrate how you manage the situation. The role-play will be filmed and the assessors will mark you against 7 interpersonal characteristics:
non-verbal communication
suspending judgement
showing understanding
assertion
exploring and clarifying
acting with integrity
respecting others
The tests are all about how you manage your interactions with others, so think about body language, ask (the actor) questions, show resilience and that you understand the situation. Most importantly, remember to be yourself.
How best to prepare
There are a variety of ways you can prepare for the RAD. There are practice tests on the prison and probation jobs website to get you started. Other ideas are:
What to wear at the RAD?
There's no official dress-code but we recommend attending in smart-casual clothes.
Take your gym kit along as well, including any medication such as inhalers, for the fitness test.
Remember you also need to bring original documents that prove your right to work, a valid ID and proof of your address. You'll be given guidance as to what documents to bring when invited.
What happens after a RAD
You should receive your results within 5 working days.
If you pass the RAD, congratulations! Following the good news, you'll then begin the vetting clearance process, which will take approximately 12 weeks. Once completed, you'll be invited to attend your Prison Officer Entry Level Training (POELT) – a 12-week training course that provides new recruits with the skills and knowledge needed to start their career as prison officers.
If you're unsuccessful but very close to the pass mark, then you'll be invited back to attend a development day and offered another chance at the RAD. You'll be given some training in the area you didn't pass (such as numeracy, literacy, or the role-play), and then get the opportunity to take another test. You can attempt the fitness test a total of 3 times as long as you've passed all other tests.
If unsuccessful across the whole assessment, you'll still always be welcome to re-apply to a new job vacancy when advertised.
To find out more information about working for the prison service, please visit our recruitment website.