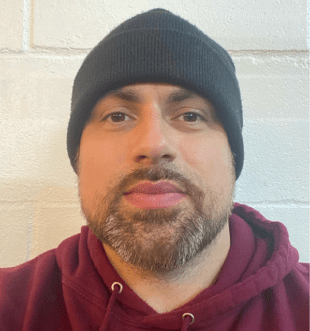 As prisons operate 24 hours a day, 7 days a week, prison officers work shifts. Most work full-time, but some prisons offer part-time working. We caught up with Jason who told us what he likes about working part-time.
"I've been working part-time as a prison officer at HMP Wayland for about two and a half years now. It's great, because it means I get to spend more time with my family, including sharing the school runs with my wife. And, because I work a maximum of four days back-to-back, I've got plenty of time to rest on my days off – and more energy to entertain the kids when they're not at school!"
Sharing shift patterns with another part-time officer
"I work alongside another part-time prison officer and we cover alternative shifts. So, if one of us is working a day shift, the other will cover the night shift. And we'll swap for our next shift pattern. Also, rather than doing seven nights 'on' – like we would if we were full-time – one of us will work four nights, and the other three."
"I work a variety of day shifts: some days I'll start at 7.30am and finish at 6pm, and other days I'll start at 1.30pm and go home at 9pm. Plus I work one weekend a month, and I tend to do a bit of over-time once or twice a month, working around my wife's work, to make a bit of extra money."
"Depending on what day of the week my part-time hours fall, I sometimes have to work on public holidays. But so do full-time officers. I've got Christmas Day and Boxing Day off this year and am really looking forward to spending the time with my family."
Planning around family appointments
"The great thing is that I always know my shift pattern – or 'detail' as we call it in prisons – for the next three or four months. This really helps my wife and I plan ahead so we know which of us is available to take our children to dentist or doctors' appointments, and the like.
Even though my annual leave entitlement is pro rata – roughly half that of a full-time prison officer– I still get a good number of days off. And I get the same employee benefits as full-time officers."
Time to recharge
"I enjoy working as a prison officer. It's something I always wanted to do, and my part-time hours work out really well for me and my family. After my rest days, I'm fully recharged and ready to walk the landings again."
Interested?

Interested in working part-time at HMP Wayland or HMP Onley?

We currently have vacancies for part-time prison officers in two of our prisons. With an 18.5 hours' a week shift pattern, this is a great opportunity if you are looking to return to work after taking time out or need to work around family or other commitments.

You'll get the same initial training as full-time prison officers, and access to the same benefits, specialist training programmes and career development opportunities.

Find out more and apply today: