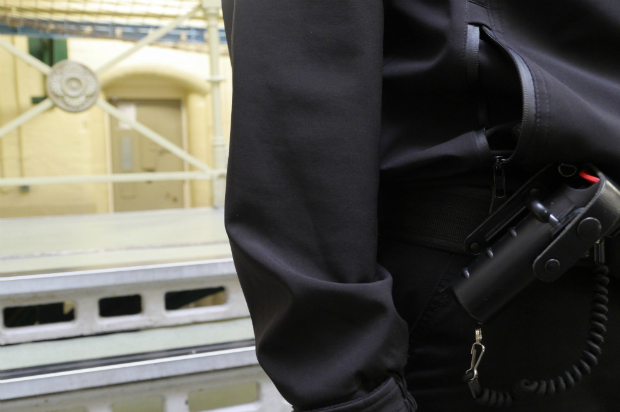 HMPPS are rolling out PAVA incapacitant sprays to all male category A-D prisons to help keep our prison officers safe and better maintain control when difficult situations arise.
But we need to ensure that prison officers receive incredibly robust and thorough training, with proper processes in place, to maximise its potential of helping to:
keep prison officers safe
improve staff confidence
resolve violent incidents more quickly
As the Governor of 1 of the 4 prisons to first test the use of PAVA spray, I've seen how it works first hand.
But before the trial started, I was unsure how it would work. When I first heard that PAVA was going to be trialled I didn't think there was a need for it, and I thought it could clash with our rehabilitation culture.
But when I saw how PAVA was being used during the trial, I feel very positive.
Training is crucial
One of the most important factors behind the trial's success was giving thorough training to all staff using PAVA.
PAVA is a synthetic pepper spray, so it has the potential to stop a violent prisoner in his tracks or prevent themselves from hurting himself, others, or staff.
As a prison officer, parts of your training will cover:
practical use of the spray
the legalities of using PAVA
its chemical make-up
likely effects of the product when used
how to care for anyone exposed to PAVA
Your training is designed to ensure you know how to use PAVA accurately in any serious threats of violence.
Making sure PAVA is used correctly
Another important factor to the successful use of PAVA is having strong systems in place to make sure it's only used to manage situations where staff have concerns for their safety.
We only want it to be used when it's really necessary, and we don't want it to replace staff using their interpersonal skills to de-escalate and manage situations.
That's why it's essential from a governor's point of view that you have the right systems in place to ensure PAVA is only used appropriately. PAVA will be fully rolled out in April 2019, to provide staff with enough time to be properly trained.
It's given staff a lot of confidence
You should never under-estimate the importance of talking to a prisoner to de-escalate a situation. However, there are times when a prison officer may have to use Control and Restraint techniques or draw their baton to bring order and control back in a prison.
However, you need to actually get up close to use a baton. But with PAVA, a prison officer can use it from a distance and there's a much lower risk of injury, giving staff more confidence in being able to deal with a situation.
I believe PAVA has prevented serious injuries to staff and prisoners. When used properly, it helps staff control serious incidents without further harm.
For us, there's no doubt that we're dealing with a difficult population, so PAVA has been a really useful safety tool.
Read more about the roll-out of PAVA to prison officers across the country.