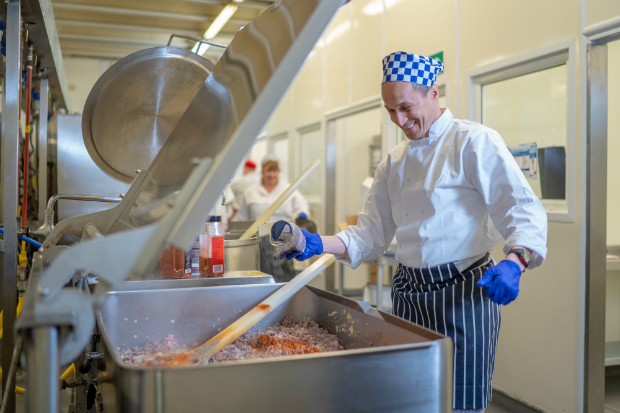 Andy has been the catering manager at HMP Feltham for 3 and a half years. Catering managers working in a prison do their part in helping make society a safer place. They're fully qualified, professional chefs who pass on their expertise to serving prisoners in the kitchen - teaching them valuable skills for life they can take with them into employment once released and stop the cycle of reoffending.
This blog post explains what difference prison caterers can make – not just to people in custody, but to wider society as well.
What do prison caterers do?
Before I started working in the prison service as a catering manager, I was in the Armed Forces for 23 years. On leaving the forces I knew I wasn't looking for a normal job. I did a bit of research into the prison service, had a look round, and thought I could make a difference – not only to the young adults in the prison, but also to the wider community in the prison here – because of the logistic skills I'd gained in the Army.
As the manager, my job is predominantly to get out into the wider prison and be aware of what's going on. I work closely with the governor and she looks to me for advice and guidance, and I obviously look for ways I can help her.
Food is incredibly important in a place where people's movement is restricted. It really affects morale. So I want to make sure that every meal is the best it can possibly be and that the boys enjoy their food here.
In the actual kitchen, there are the 2 band 4 supervisors who run the day-to-day operation of feeding the population here. I take care of these 2 people and make sure they have everything they need to be able to do their role.
They then manage the band 3 caterers, to help them and make sure they're supported. Everyone has to work together in the kitchen. It's our job to train the boys so when they're released, they leave prison actually being able to cook, with a qualification to back it up.
How to work with offenders and get real results
Seeing my team develop since I've worked here has been really rewarding. It's about attracting the right people. I'm in charge of the interview procedure for the supervisors, the band 3 caterers and any young adults who apply to work here. Obviously with the prisoners the risk factor is the primary consideration – but I have access to their records, what their behaviour has been like since they've been in custody.
I'll then go and interview them and make a judgement call on whether their character is suited to coming and working in the kitchen. I haven't met one boy yet who we can't work with. If they've passed the security requirements, I believe there's a fair chance we can do something with them.
When I'm interviewing for staff, I'm looking for people who demonstrate that they care. It's all about caring. I want my staff to really get to know the boys and show them what a constructive working relationship is like. Getting to know the offenders is also important because we're in a position to notice when something might be wrong and to find out what the problem is before something can get out of control.
It's absolutely vital that we are role models to these boys. From the minute they walk in the door, we shake their hands, we look in their eyes and ask them how they are. We want them to be confident that we actually care about them. But I also want them to see the way that I conduct myself and the way my staff conduct themselves – and for them to want to be the same. Because that's the only way they're going to succeed outside – if they go into the workplace politely, knowing what they're doing and if they're open to being invested in.
Playing our part in helping society
In terms of the reach of our work with them, there's a whole scale. There will be some who will go on to do this as a career as a chef. But it's just as important for those who're going to go home and cook a meal, for their parents to think "he's grown up". We want the boys to get as much as they can out of this environment, whatever that means for them. But the change has to come from them.
I recently met up with one of the boys who used to work here who's now been released. He did the complete journey with us: he was not very confident, really struggling with being in prison, but he's now working in the Café From Crisis near London Liverpool Street. That's what this is all about, seeing someone we've taught get back in the community and making a positive difference.
If you're interested in applying to become a prison caterer and making a difference to people's lives, find out more and apply: prisoncatering.co.uk