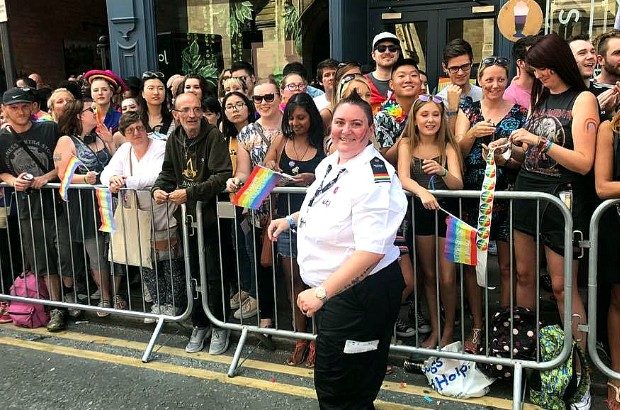 When I started my Prison Service career in 2006 aged 21, I did so as an openly gay member of staff, not just to colleagues but to everyone, including people in prison.
It was important for me to do so because I wanted to focus on putting the best of me I possibly could into my work, and that meant being myself and using the experiences and knowledge I had to help others overcome challenges they face.
I never actually set out to become a visible LGBTI+ role model. Before joining the prison service, I got outed at one of my first part-time jobs in 2003 (before employment rights for LGB people came in) and had some problems there, but fought back when the law changed. After that I decided I wasn't going to hide who I was.
Being out at work
When it comes to being out at work, I'd say find a happy medium that suits you – and if that is being out to colleagues and not offenders or service users, that's fine.
If you take the big step of being out to offenders, I'll not lie, be prepared that you will come across the odd one or two who will replace the usual things they shout at staff with some homophobic comments.
Personally though, I've found offenders view me as being honest and trustworthy due to being out. They will also ask me about LGBTI+ issues or articles they've read, which can lead to some interesting conversations, but usually results in them talking about LGBTI+ issues to others and gradually that changes attitudes.
The most incredible experience I've had of this was during a LGBT History Month display competition. I worked with a prisoner who had previously 'gay bashed' people, and through talking to him about being LGBTI+ and answering his questions, he changed his opinions to such a point that one of his best friends finally felt able to 'come out' to him after 18 years of friendship. This revelation made him reflect on his past behaviour, which spurred him on to become a LGBTI+ ally and prisoner diversity rep.
As well as there being lots of LGBTI+ people in prison, quite often LGBTI+ issues overlap with issues experienced by offenders. Being able to empathise helps build a good rapport with the people in my care and I can use that to empower them to make positive changes in their life.
The Pride in Prisons and Probation network
HMPPS has a thriving Pride in Prisons and Probation (PiPP) network, which I am currently the national lead for. We are here to support LGBTI+ colleagues and welcome allies as members, so you're guaranteed to find a friendly face who either knows what it's like being LGBTI+ in the organisation or is supportive of their LGBTI+ colleagues.
Colleagues will mostly be supportive, although there are some aspects such as 'banter' which can creep through. If you don't like something, talk to the person involved as it may just be ignorance. However, if it continues then there are policies and procedures in place that you can use and PiPP will support you.
Every year as a network we aim to participate in our local pride marches. They are a great way of building links with our local communities and putting a friendly face to what is normally strangers behind a wall. It is honestly one of the most enjoyable experiences, and staff love volunteering their own time to participate in a parade group, which we hope will help LGBTI+ people realise that a HMPPS career is open to them and that if they come into contact with our services as a victim, visitor or even service user, that there are staff who are approachable and understand their issues.
You can find out more about the work of the PiPP network by following @HMPPS_PiPP and @Equality_HMPPS on Twitter.
To find out more about working in the prison service visit www.prisonandprobationjobs.gov.uk