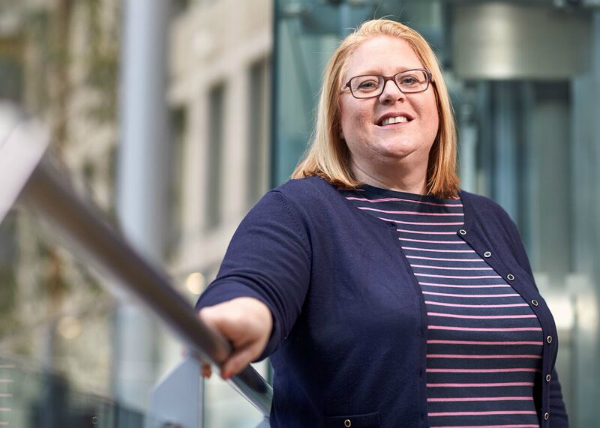 I joined the prison service because I always knew I wanted to work with people. My career started straight after university: I applied to become a prison officer in my third year, finished my final exams in May, and started working in June 1999. I now work as a deputy director at HMPPS HQ.
I worked in prisons for around 17 years - the most amazing 17 years of my life. Being a prison governor was the best job I've ever had, closely followed by being a prison officer. It's very rewarding, very tiring, but provides a new challenge every day with great job satisfaction.
This blog post is about my career path from prison officer to prison governor, ending with my own tips for anyone aspiring to work in the prison service.
On being a prison officer, as a woman
My first job as a prison officer was in HMP Cookham Wood in Kent, which at the time held 120 females (it's now a juvenile centre). I absolutely loved working with women because I could relate to them, and I felt I could really make a difference in their lives and help them towards better futures. Working with women in prison also showed me that more often than not, they tend to be victims as well as perpetrators of crime. I worked there for 2 years, and I already knew at this point I wanted to run my own prison.
So, I applied for and was accepted onto a 3-year fast-track graduate scheme, which enabled me to move up the ranks faster. I went from being a prison officer, to a line manager, and by the end of it I became the Head of Activities at HMP Canterbury, with responsibility over my own department and budget. Nowadays graduates can go onto the Unlocked graduate scheme, which is a 2-year leadership programme. HMPPS also run a Senior Leadership Scheme that provides the insight and expertise to lead our service, potentially as a Deputy Governor.
When I became a line manager, I was at a male prison where I was one of the only few female members of staff at the time. We thankfully see much less of this nowadays, with 1 in 4 prison officers being women and also award-winning leaders in their field.
This role was one of my biggest challenges throughout my career. I was a 23-year old graduate in a leadership role, working in a very male-dominated environment. I needed to overcome certain challenges and stereotypes of being young and inexperienced, which I did by learning quickly and working hard. Overall, my ambition and personality helped me get through any initial struggles and I soon earned the trust and respect from my colleagues.
My most memorable moment as a prison officer
During my first job, I worked closely with a very vulnerable woman - she had drug problems, mental health difficulties and before she came into prison she'd lost custody of her children. I was her keyworker (personal officer) for nearly a year, and together we worked on her issues and improving her confidence. However, I was then promoted and moved to another prison, so I never saw her again during my working life.
Then, around 1 year later on a Saturday afternoon, I was out shopping with my mum. I suddenly heard a howling "MISSSS!" down the high street. I turned around, and it was her! She looked completely healthy; I found out that she had a job and even had her children back. She told me our sessions had really helped build her confidence, which led to her getting her life back on track.
For me this was a real result. Working as a prison officer, the only environment you usually see these people in is behind prison walls; you don't often see their improved lives once they've left.
It was only by chance, when shopping in town, did I truly witness the difference rehabilitation can have on someone's life from their time in prison. It was an incredible feeling to see her in a good place and to know that I had some part in turning her life around.
On becoming a governor, as a mother
At 27 I embarked on another journey like no other, and became a mother.
People may not realise this, but working in the prison service can actually provide a really great work-life balance for working mums. Due to the nature of the job's shiftwork, you can have more flexible hours than the typical 9-5.
At 28 I took the next step up and became Deputy Governor of HMP Rochester. I then had my second child, but that didn't stop me from thinking ahead about my career. Whilst on maternity leave, I continued to study for promotional exams, passed, and returned to work as a governor of HMP Elmley at age 30, which at this point made me one of the youngest female governors in the UK.
I absolutely loved being a governor. I had the autonomy to make changes and improvements that I knew could make a difference to a prisoner's journey to rehabilitation. I think my greatest achievement was setting up an Open University hub within a prison, the first of its type in England, that enabled prisoners to study in a suitable and supported learning environment.
Applying to become a governor whilst on maternity leave was a particularly busy period in my life, and a lot of planning was involved, but balancing being a mum to 2 small children, working within the prison service and progressing your career is completely achievable. Flexible working arrangements are in place that can suit your responsibilities either as a parent or carer. The childcare voucher scheme with HMPPS also provided an extra bit of help that was invaluable to me as a working mum.
I'm really glad to see lots of other examples of female prison officers successfully balancing both their career and family, such as Rebecca's story.
Overall, I was the governor at 3 different prisons across 7 years, before moving on to the next stage of my career. I finished working in prisons feeling proud that I succeeded in running several prisons, starting out from the humble beginnings of a 21-year old prison officer.
My advice for aspiring prison officers
You have to want to be around people for this role. The people you're caring for are often in a really difficult place, and you may have difficult conversations with someone who might not even want you there. So try to steer away from superficial conversations and be genuine when asking someone "are you alright?"
Remember everything you're taught during your prison officer training, you're taught it for a reason.
Be yourself; if you feel there's something extra you can bring to your role, may it be from personal interests, spot opportunities to bring it into your job. There's no 'one type' of person who makes a good prison officer; all the fantastic officers I've met have their own qualities that make them brilliant at what they do.
Spend some time doing your self-development early on to help you to identify what you like, because there are lots of different areas for you to specialise in as a prison officer, from dog handler to physical education instructor or psychologist.
Never forget that a single action or conversation from you can change someone's life. You may never know the effect you've had on that person, but always be a role-model in the same way you would to your own children and family. Prison officers are integral in helping prisoners see a better life for themselves.
Finally, remember that whatever establishment or role you start in with the prison service, it's not necessarily the end of your journey. Your first step onto the wings is only the start of your experience in providing an incredibly important, challenging but rewarding, public service.
I hope that my story can help aspiring prison officers, especially working mums, to see what a great difference you can make in someone's life.
If you feel inspired by Sarah's story, you can search for prison officer jobs on our recruitment website to find your own long-term career that changes lives.