How do you become a governor or deputy governor at an HM prison?
One option is through the HMPPS Senior Leadership Scheme. This 3-year development programme fast-tracks candidates who already have proven management and leadership experience to become a prison deputy governor or governor.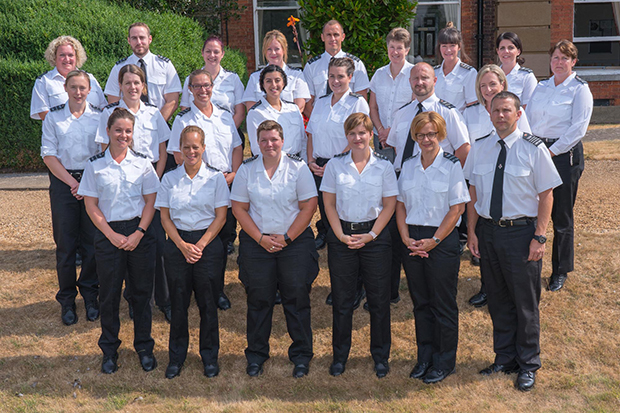 HMPPS are keen to encourage talent from other sectors, and we have 21 exceptional candidates from a variety of industries, from the charity sector to the military, but also from within the prison and probation service too. So, in order for them to all have the relevant hands-on experience to become effective leaders of HMPPS, they start their journey on the front line: as prison officers.
They then move onto 2 head of function placements at 2 different prisons, before working towards their deputy governor assessment at the end of the 3 years.
This year's scheme started in May 2018, and our candidates are now reaching the end of their 12-week Prison Officer Entry Level Training, before moving on to becoming prison officers. So, we've spoken to some of them to get insight into their career backgrounds and hear about their first steps towards becoming HMPPS leaders.
Jennifer Mckechnie
I entered onto the Senior Leadership Scheme after working for the National Probation Service for 15 years, so I gained a variety of transferable skills within this environment.
It was whilst working as a probation officer and then a senior probation officer, that I started having an interest in working in prisons as an operational manager. When I saw this Senior Leadership Scheme advertised, I felt excitement but also acknowledged that the competition for the post would be high.
The application and interview process was tough, so when I was told that I was successful it was an amazing sense of achievement for me!
I'm now coming to the end of the POELT course and I can honestly say it has been one of the best team building, learning and networking experiences that I've had. It has been challenging at times being back in the classroom, but nonetheless I'm extremely motivated and looking forward to developing my career.
The rest of the programme is going to be a steep and quick learning curve, but I intend to work hard building positive relationships with my colleagues, prisoners and partner agencies.
I'm now looking forward to finishing the POELT course, returning to the prison and being more involved in the good work that takes place within the prison service.
Carly Johnson
In my previous role at the NSPCC, I supervised a team who supported young people with child protection and mental health issues. Prior to this, I supported released sex offenders getting back into the community.
I applied to this scheme through a combination of my career history and wanting to change the way prisons are perceived to the public. One of my main goals through this scheme is to highlight the importance of a rehabilitative culture.
The POELT training is really insightful and provides a taste of what to expect on the landings. I feel privileged to be in a position where I get to learn everything prison-related from the prison officer trainers who are experts in their field. I'm in total awe of them, and the obstacles they overcome each day.
The trainers are great at making you feel that you're all starting from the same point and that, no matter what our background, we all have different yet valuable knowledge and skills. They also do a great job of simulating real life incidents in the training environment - one example that sticks out for me particularly was using the smoker hoods in a fire drill and having to safely remove a non-compliant 'prisoner' from a cell. Overall, it's a good mixture of classroom-based learning, alongside practical skills.
I'm coming towards the end of my POELT, feeling exhausted but crammed with information! I still have a lot to learn and can't wait to take it all in. I'm also experiencing a mixture of feelings, ranging from excitement to nerves. I'm feeling a sense of loss too, as I've built some great relationships with the others in my team during the training here at the HM Newbold Revel learning centre.
But, I'm excited to start my prison officer placement now and see how everything we've learnt fits together in the real world. For me, I feel this is the most important part of our journey, because you can't fully understand how to do well in the more senior roles later until you know what it's like to be facing prisoners and their issues each day.
Kimberley Martin
I joined the prison service in 2009. I was never very academic at school, so decided to get straight into work rather than further my education at university. I started my career at HMP Wayland in the kitchen and loved working with prisoners.
After a short period of time working in the prison's People Hub, I saw there was much more for me to learn; this sparked an interest to develop in a different area, so I worked in a Business Hub Manager role for several years, and more recently as an Assurance Advisor. This job further ignited the passion in me to become an operational member of staff, so I applied to the Leadership Scheme.
After my first week of the POELT, I realised there's a lot to learn and do as a prison officer, and I remember feeling quite overwhelmed, but also full of excitement about the challenge ahead. I'm so proud to be part of the 2018 Senior Leadership Scheme cohort and feel privileged to have the opportunity to develop myself into a future leader.
Now that we're nearing the end of POELT, my time at Newbold Revel seems to have gone extremely quickly! And although it's been challenging to be away from my family 5 days a week, I'm so grateful to have had the opportunity to get to know others on the scheme and receive reassurance for some of the anxieties I have about moving into an operational role.
The tutors at Newbold are a credit to the prison service with their wealth of knowledge and experience, along with their ability to make the training content engaging and interesting.
I'm both nervous and excited; ultimately, the next chapter in the scheme is going to be pivotal for me to understand the process, enable me to empathise with the staff and prisoners on the ground, and inspire me to be the best head of function when I go into the third stage of the programme.
Samantha Cornberg
I'm now coming to the end of POELT and this has been such an incredible experience. It's been challenging at times being away from home and going back to classroom-based learning. But, the training has been incredibly valuable and I feel proud to be part the scheme.
In these past few months, I've developed a deep appreciation and admiration for the work that prison officers do every day, the amount of responsibility they hold and the range of skills needed for the incredible work they do.
I would be lying if I said I wasn't nervous about my prison officer placement, but can honestly say I'm looking forward to the next few months ahead learning and developing new skills.
I feel passionate about being a part of HMPPS and the Senior Leadership Scheme. It feels like such a wonderful opportunity and a natural progression from my background in Children's Social Care, and I'm looking forward to the next few months ahead.
Follow their progress
This blog post is the first in a series of posts where we'll follow the journey of our candidates going through the various stages of the Senior Leadership Scheme. Subscribe to the blog to keep up to date with their progress.
If you're ambitious, have management experience and feel like you've got what it takes to run a prison, take a look at our website for more information on the Senior Leadership Scheme. You could also contact the team directly.
Alternatively, if you're interested in becoming a prison officer, explore our recruitment website for more jobs within HMPPS.