How do you fast-track to become a prison governor?
Find out through this blog post series that follows the career journey of candidates currently going through the HMPPS Senior Leadership Scheme. Everyone in this scheme has had years of real management experience across varying sectors, and are now on an intensive 3-year development scheme working their way towards becoming a prison governor or deputy governor.
In this second part of our series following the future leaders of HMPPS, we speak to the candidates who've now finished their placement as prison officers, and are now currently in their Head of Function roles.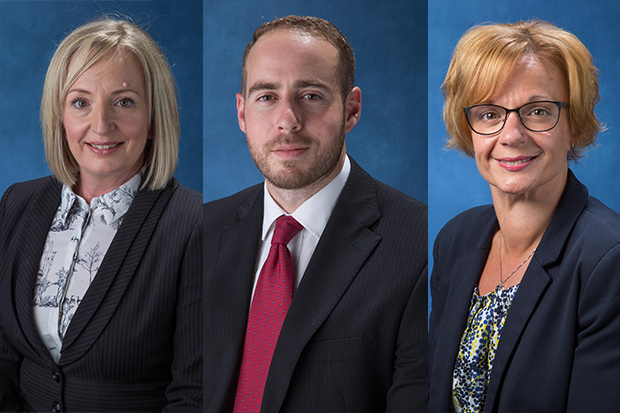 Bettina Marshall
After completing my Prison Officer Entry Level Training at HM Newbold Revel, I spent my next 3 months working the landings of HMP Whitemoor - a high security estate. Here, I fine-tuned the practical skills I had learned during training, regularly engaged with the prisoners, and experienced the huge variety of responsibilities of a prison officer.
Excellent communication and social skills are essential when working with such a challenging population within today's rehabilitative culture, and mine were regularly tested. I rapidly felt part of the HMP Whitemoor community, thanks to the supportive and accommodating staff I was lucky enough to work with, and they were keen to ensure that my placement was as successful and rewarding as possible.
The experience I gained was invaluable and gave me a true understanding of the challenges met by both frontline prison staff and senior management. The fast-track nature of the scheme has the advantage of providing us, as future governors, current experience and appreciation of what it is like to work the landings.
I've now leapt with both feet into my role as Functional Head at a Category C training prison. This has been a massive culture change from my previous placement, presenting hugely different challenges.
Currently in my first few weeks as Head of Residence, I am devoting myself to:
building relationships with my staff
gaining a full understanding of the processes
defining my role within the senior management team
starting to consider the strategic direction
I'm conscious that my time is limited within the role (a maximum of 18 months), so I'm not so arrogant to believe that I can make huge, radical changes here. But, I aspire to continue the good work that is currently being done within the senior management team, and make improvements that are of value to the establishment as a whole.
Sean Williams
Working as a prison officer during the scheme was an incredibly eye-opening and meaningful experience for me. Seeing all the aspects of our training unfold in real life demonstrated just how challenging the role can be. I came away with an unprecedented level of respect for those that have and continue to deal with situations which are unimaginable outside of the prison environment.
You learn and experience a great deal in the 12 weeks of the prison officer placement, and these experiences will be vital to us in our first Head of Function placement and beyond.
My first Head of Function placement is about learning how I fit into the wider strategic objectives of a prison. It's about understanding how and why decisions are made and what role each member of the Senior Management Team (SMT) plays in that process. The learning curve is going to be steep and there's loads to take in, but I'm also confident that my previous management experiences will help me through it.
The most interesting aspect of the course so far has been building relationships with colleagues both on the Senior Leadership Scheme and also other prison staff from all varying levels and experience. The variety of backgrounds and motivation for working in the prison service is huge, but all of them share a passion for the work that they do. There are some truly inspirational people within the organisation.
Helen Raine
As I approached my prison officer placement at HMP Deerbolt I was apprehensive at first as didn't know what to expect or how I would be received. However, all the staff were welcoming, inquisitive about the Senior Leadership Scheme and what it involved, so I had a good rapport early on in my placement.
The Senior Leadership Scheme prepares a work schedule for us to give us guidance on what we should be covering during the prison officer placement. However, I still never knew what to expect each day. To maximise our time there and to give myself as much experience as possible, I was responsive to the activity and needs from all over the prison.
I felt very much part of the team at Deerbolt. I would help out other staff wherever needed, including changing shifts to support colleagues - team camaraderie in a prison is incredibly important, and I thoroughly enjoyed my placement.
My first Head of Function placement is being the Head of Safer Custody and Equalities at HMP Holme House. There is so much to learn as it involves every department within the prison.
Some examples of my main responsibilities are:
understanding the wealth of information available
knowing how to deploy staff effectively
conducting Focus Groups with the prisoners, hearing their views, aspirations and challenges
Each day is an opportunity to learn, and so far all of my training has contributed to my development and will continue to do so. I am privileged to work with dedicated staff who want to make a real difference to those in our care. I want to gain as much experience as possible during all of my Head of Function placements, so I can contribute in running a safe, decent and secure prison, whilst personally growing and developing in my role.
Applications for the next round of recruitment for the Senior Leadership Scheme open Monday 14 January 2019.

If you're interested in making a difference and becoming a future leader, apply now.